Located to the west and deep into the core zone bordering the three provinces of Bac Lieu, Soc Trang and Ca Mau, here is a very large area, the core of the Mekong Delta with interlacing canal networks and roaring waves. Main mean of transportation of its people is boats (shells) and along the canal banks are very long out-of-the-way roads. Houses of the people here are scattered along the canal banks. Khmer people account for up to 30% and they live in harmony with the Kinh. Khmer and Kinh people also get married and give birth to children, and their descendants speak both languages.
People's livelihoods here rely mainly on aquatic resources such as shrimp, crab, snail and frog caught in the wild. In this low-lying area, seawater always penetrates deep inland, blending with fresh water making a vast brackish water area. There are not many fruit trees except for the palm family and strange unknown trees. Farmers are engaged in aquaculture, especially tiger shrimp or white shrimp. Overall, I think that it is a land exploited long time ago, that's why the population is relatively crowded. People do not own as many fields as in Kien Giang (Kien Luong, Hon Dat), a large household only has a few hectares.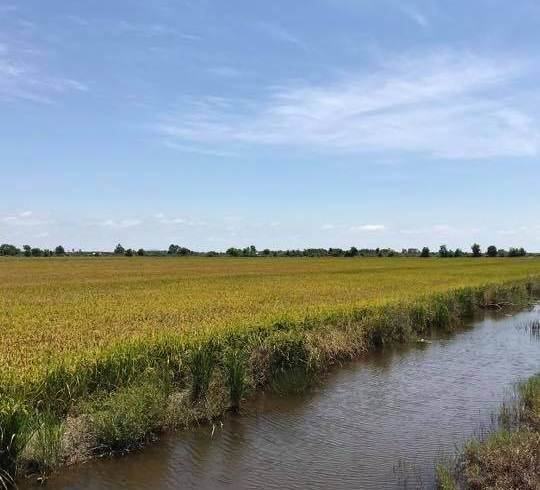 Since the advent of ST20, ST24, ST25 rice varieties that grow and develop well with high yield in brackish water conditions, the farmers have been living a better life. They know how to combine shrimp farming and rice culture. In their fields, they dug around into canals about 5 meters wide, where they can raise shrimp year round even during the dry and drought season. There is just only one rice crop. Shrimp live naturally in the trench, their food is aquatic animals in rotting rice fields.
At the beginning of the seventh lunar month, shrimps as tiny as toothpicks are released into the trench, after one month, the rice is also sown on the flat surface. A month later, when the rice is grown, the farmers add water so that the young shrimp could swim to the paddy field. Their habitat is spread out across the fields, the shrimp grows very quickly, almost free from disease. Before the rice is harvested, the water is drained again for the shrimp to fall down all the trenches. After harvesting rice, farmers flood the fields with water to let the straw rot, algae and aquatic animals are a plentiful food source for the shrimp.
Farmers harvest shrimp in a very special way. They separate the trench and place many things called "Lu", which is the same as "Do" in the North. This "Lu" has two opposite sides. When the water flows out and flows in according to the tide, the shrimp will go upstream and enter the "Lu". In the morning, the farmers just have to collect Lu and sell them to traders. At every harvest, at least a few kilograms, or up to dozen kilograms are sold. Farmers catch shrimp like that all year round, catch little day by day, so they are usually not price squeezed.
I asked Mr. Vu and knew that the price of black tiger shrimp is about 150,000 VND while white shrimp's price is only several thousands VND. Black tiger shrimp meat is tough, more delicious because it's completely natural while white shrimp is raised industrially. On average, farmers can harvest 500 – 800 kilograms of black tiger shrimp per one hectare of paddy field, equivalent to about 100 millions VND per year. Besides, they harvest 7-8 tons of ST24 rice, estimated about 50 millions VND. This is a very high income compared to the production of any other crop in this region.
Talking about ST24, ST25, these are excellent rice varieties for brackish water area with high yield and few diseases, making delicious cooked rice. ST24 was voted the top 3 best rice varieties in the world in 2017 and ST25 was the best variety in the world in 2019.
Both varieties were created by Hero of Labor Ho Quang Cua – a famous but very simple man. Meeting Mr. Cua, he told me that there were a number of seed companies that wanted to buy the copy right of ST24 and ST25 varieties and offered him a lot of money, but he did not sell. He worried after that, farmers would have to purchase the seeds at very high price. After hearing about that, I felt very touched. In this era of money, it is rare to have a decent man like him!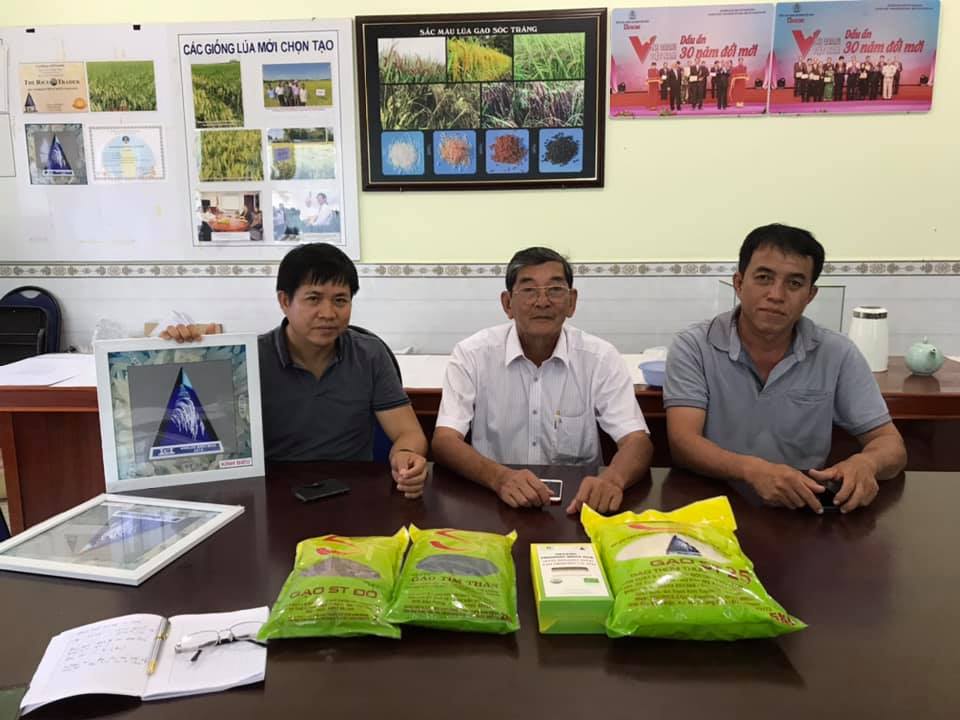 Because ST24 rice is transplanted in shrimp square while shrimp is the main source of income, ST24, ST25 rice is intangibly under strict control of water, fertilizer or plant protection drugs. Spraying or fertilizing indiscriminately will cause mass death of shrimp, and farmers will lose money immediately. That is probably the reason why these varities are so delicious and clean.
Arriving at Hong Dan district, Bac Lieu province at noon, we (me and Mr. Kim) were invited by farmers to have a drink. It was a rice-shrimp production facility introduced by Mr. Ho Quang Cua to associate with rice production of ST24 variety.
 Drinking snacks were hastily prepared with 100% local specialties. There were roasted mouse meat (with some kinds of leaves that I don't know), snakehead fish, eel cooked with banana stalks and steamed tiger prawns. The drink is also very unique, rice wine soaked with ST purple rice. Before drinking, Mr. Vu, the owner of the house, took a handful of rice to soak, only 15 minutes later, a bottle of white wine turned into an eye-catching dark red wine bottle, whose taste was very delicious, sweet and mild. The drinking party lasted from noon to afternoon, and became more and more crowded with both Khmer and Kinh farmers. I sat next to a brother named Tổng, he invited wine and tiger shrimp enthusiastically. He told me to make myself at home, people here had had enough of those specialities and asked me to eat more. I found the local people very fascinating, when the husbands were drinking wine, the wives came to encourage as well. First, the wives busily prepare the meals, set the table so their husbands just cross their legs to relax, after that they came join the party, raised their glasses and cheered continuously. When I drank in moderation, the host sister (wife of Mr. Vu) laughed and said, "You look so manly, how can your drinking perfomance so weak?".
The meeting – drinking with farmers came to an end when everyone was full and nostalgic. All of us want a long-term, sustainable cooperation, which will surely bring better benefits to both farmers and enterprise. In that way, the world's most delicious rice grains, produced by a natural safe process, will reach consumers at very reasonable prices.
Goodbye Hồng Dân and its industrious farmers. We'll be right back for further plan as a new crop is coming closer!
Engineer Mr. Nguyen Thanh Nhi